This week, I researched a cannabis stock several of you have asked about: Planet 13 Holdings Inc. (OTC: PLNHF).
Thanks to Vanya, Brent and Armando for asking us to take a look at this stock!
I'll start with what Planet 13 does.
About Planet 13 Holdings
Planet 13 is a cannabis company that operates primarily in Nevada. In addition, it owns a pair of dispensaries in California.
Planet 13 owns just four total dispensaries, but its product is in about 33 stores in Nevada.
It operates what it calls "the world's largest cannabis store" a few steps away from the Las Vegas Strip.
The company plans to open another "superstore" in Santa Ana, California.
The Planet 13 Cannabis Entertainment Complex won Leafly's Nevada dispensary of the year in 2018, and it recently added non-cannabis products to its retail store: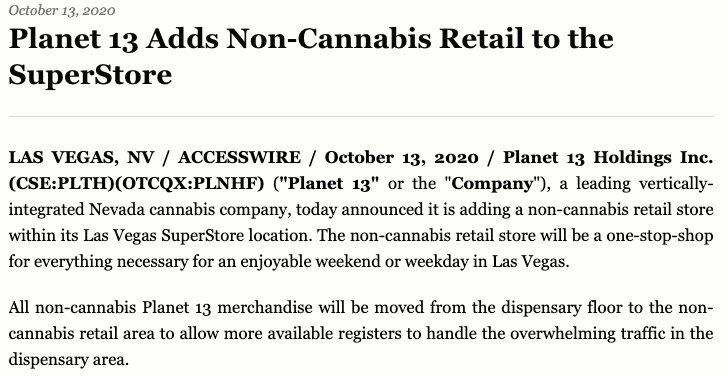 It's also expanding its sales floor, adding cash registers and new entertainment to the facility as Las Vegas' tourism starts to rebound.
Planet 13 has several different brands under its umbrella:
Medizin — billed as the company's "premium" cannabis offering. Trendi — a cannabis vaping product. Leaf & Vine — disposable vaping products. Purc Coffee — just coffee (not cannabis coffee). Planet M — CBD-infused products. Dreamland Chocolates — chocolate products infused with cannabis. HaHa Gummies — THC-infused gummies. Planet 13 Cannabis Stock
Financially, the company seems to be in the midst of a record-breaking quarter.
Take a look at some of the highlights: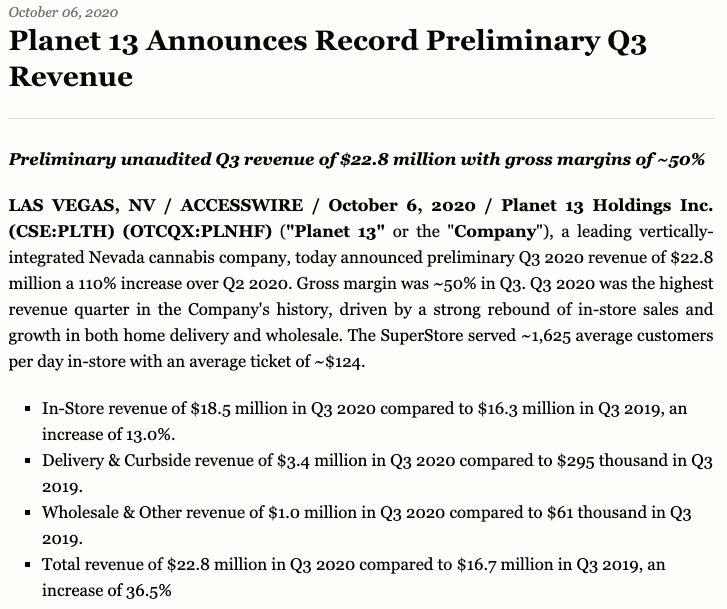 The preliminary sales figures suggest — barring any more lockdowns