Published 4:46 am CDT, Sunday, May 26, 2019 Photo:
John O'Connor | AP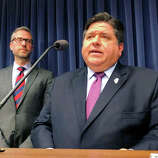 Photo:
John O'Connor | AP
Image 1 of / 1
Caption
Close
Image 1 of 1
Photo:
John O'Connor | AP
Lawmakers have 5 days left, 5 big issues to settle
Back to Gallery
The Illinois General Assembly commenced its spring session in January with a bold directive from new Gov. J.B. Pritzker for a balanced budget, legalized marijuana and sports betting, a revamped income tax system, and a multibillion-dollar state construction program.
It enters its final week with most of that work uncompleted.
It's nothing new. Illinois lawmakers, whose scheduled adjournment is May 31, invariably push their heaviest work off to the closing hours. Once, faced with a midnight end-of-session deadline on a key vote, a Capitol wall clock was stopped so that the vote could be recorded before both hands hit "12."
Here's a look at the workload:
BALANCED BUDGET
Pritzker proposed in February a $39 billion spending plan for the budget year that begins July 1. With billions of dollars of debt serving as the aftershock to a 2015-2017 budget deadlock between Democrats who control the General Assembly and Pritzker's Republican predecessor, the incoming executive called for financial stability and new tax revenue to pay old bills and chase rising costs. Republicans say the new taxes are unnecessary and would simply fuel runaway spending.
An unexpected $1.5 billion increase in April income tax revenue apparently took care of